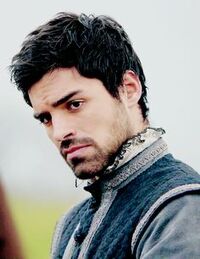 Sean Teale is an English actor, best known for his role of Prince Condé in the CW hit series Reign. He plays Ben Larson in Syfy's Incorporated.
Sean Teale was born in London, England, where he intended to pursue a career in rugby or soccer but was convinced to switch to acting after being spotted in a school play by an agent. After being accepted to the University of Manchester, Sean deferred his place to pursue acting full time.
Sean first garnered attention as Nick Levan on the hit BBC series Skins (2011). In 2014, Sean made his feature film debut in the independent comedy We Are the Freaks as well as appeared as a series regular on the ITV period drama Mr. Selfridge and as Prince Louis Condé on the CW series Reign.
Sean has also appeared in Roger Young's The Red Tent (2014) opposite Rebecca Ferguson and Morena Baccarin and Survivor (2015) with Pierce Brosnan, Emma Thompson and Milla Jovovich.
You can follow Sean Teale on Twitter. @seanjteale